New York Outdoor Guides - Whitewater Rafting
Please scroll down
All guides are licensed by the State of New York as professional guides who have passed the Department of Environmental Conservation proficiency exam for skill and ability in the woods and on the water.
The state map seen under Regional Info depicts the New York State Outdoor Guides "Regions" by location. This will help you know where each NYSOGA member guides from.
ADIRONDACK MOUNTAIN OUTFITTERS
Gadway, Abraham Lic #4898
825 Alden Ave , Warrensburg NY 12885
Adirondack Mountain Outfitters is a hunting, fishing, hiking, camping, canoeing, kayaking, snowshoeing, and backcountry skiing guide service in Northern New York State's Adirondack Mountains.
Location: Adirondacks/Saratoga
---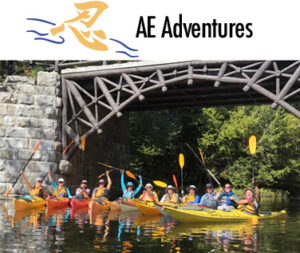 AE ADVENTURES
Locorini, Scott Lic #3784
PO Box 752, Boonville, NY 13309
Since 2001 AE Adventures has been providing small group kayak adventures (less than 10 guests) all over the globe! Popular destinations include the Adirondack Mountains and 1000 Islands of New York State, multiple locations in Florida, Costa Rica, Newfoundland, Panama and Italy. Custom destinations are also available upon request.
Location: Adirondacks/Saratoga, Catskills/Albany, Central New York/1000 Islands, Chautauqua-Allegheny, Finger Lakes, Greater Niagara, Greater Niagara , Hudson Valley/Westchester, Long Island, New York City
---
MIDDLE EARTH EXPEDITIONS
Failing, Wayne Lic #0250
4529 Cascade Rd, Lake Placid, NY 12946
Canoeing, pond fishing, fly fishing, deer hunting from efficiency cabins. Wellness/Healing Retreats, Caribbean adventure trips.
Location: Adirondacks/Saratoga, Central New York/1000 Islands
---
NORTHWOODS OUTDOOR GUIDES
Burke, Robert W. Lic #484
199 Bisby Rd. Box 213, Old Forge NY 13420
Location: Adirondacks/Saratoga
---